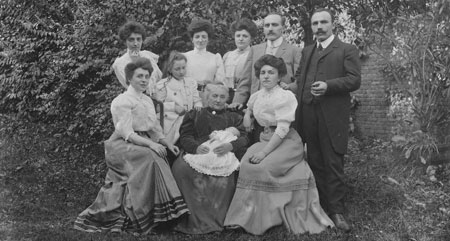 Exploring one's family history is a fascinating pastime. The church and civil status registers are the backbone of this research. Consequently, they were among the first sources to be digitised by the State Archives. All church registers are available in digital format. The digitisation of the civil status registers is in progress. In addition to these base series, a number of diverse sources can be consulted to make the family tree grow further.
Church registers
From the 16th century onwards, parish priests were ordered to record baptisms, marriages, and later also funerals.  For many of our ancestors, these records are the only trace of their existence. Most of the registers were set up between 1610 and 1630. Unfortunately, some of them got lost. In the 19th century, alphabetical finding aids sorted by family name were created for each municipality. The family names usually refer to a date and a page or serial number in the register.  These 19th-century indices are of various quality, but form a good starting point for genealogical research. In the past years, many volunteers have created new and more detailed finding aids.
Civil status registers
From 1797 onwards, the state takes over this recording: civil status registers are kept by the municipal administration and contain the certificates of birth, marriage and death in chronological order. Every year, alphabetical indices are created for these registers and processed at the court registry into so-called ten-year tables (1851-1860, 1861-1870, etc.) - a useful tool to start your research.
In collaboration with the Genealogical Society of Utah (GSU).