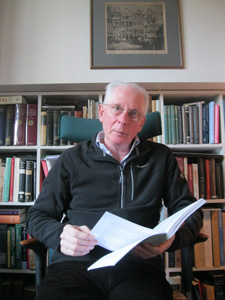 In the late 1970s, Chris Ford was a regular visitor to the Archives while he was preparing a PhD on English relations with Flanders at the start of the fifteenth century. His first published work, in 1978, was awarded the Royal Historical Society Alexander Prize. After retiring from a career in business, he has returned to his history studies and has recently given several conference papers on Anglo-Burgundian matters which he is hoping to see published in 2016. This month, Chris tells us about a recent visit to the State Archives where he discovered a document he had been searching for over 40 years…
Who are you?
My name is Chris Ford and I live near Hastings in Southern England. My wife's family are from Liedekerke near Brussels, and we have been frequent visitors to Belgium over many years. This is my second visit to the archives this year and I find it particularly rewarding to combine family visits with my archive work.
Why are you today in a reading room of the State Archives?
I am preparing to publish an article re-evaluating the relationship between Philip the Bold and Henry IV of England and I am here today looking at several documents from the two series of 'Chartes de Flandre' which have an important bearing on the subject, one of which indeed has long been assigned to the wrong date. There is always a sense of excitement in discovering wrongly dated material.
What do you think are the strengths and weaknesses of the State Archives?
The Brussels archives are always a pleasure to visit. The catalogues, both published and unpublished, provide a remarkably straightforward introduction to the contents of the archives, and the staff, always extremely helpful, make it easy to explore them in greater depth. It is a privilege to handle documents of such age and in such excellent state of preservation.
What research advice would you give to other readers of the State Archives?
Good preparation before the visit is as essential here as at any archive. Never settle for merely looking at those documents that you know about, always devote some time to exploring new sections that may not at first glance seem relevant to your subject. Such time is never wasted and it is in unexpected places sometimes that the really important discoveries are to be made. My next answer is testimony of this.
Which records/archives did you explore today and what is the most interesting document / the best you've ever discovered in the State Archives?
Late on my visit I made the astounding discovery, in a most unexpected place, of a document I have been hunting for over 40 years. The manuscript details the arrest by officials of the duke of Burgundy at Easter 1403 of the goods, on six ships at anchor in the port of Sluis, owned by up to 100 English merchants, all identified by their merchant marks carefully drawn in the text. It then describes the inventory and sale of those goods, all in the most minute detail, every item described and costed, every purchaser named. The document, on parchment, and in perfect condition, gives every impression of having never been opened since the day that it was carefully folded and placed in storage. It is made up of 40 membranes, nearly 30 metres in length, with more than 40000 words of text. This is a unique survival, of interest in so many different ways, and I hope to see it into publication in 2016.