Contact:
Rue des Augustins, 20
7500 Tournai

How to get there
T : +32 (0)69 22 53 76
F : +32 (0)69 54 54 83
archives.tournai@arch.be
Opening hours:

Click here for the complete list of closed days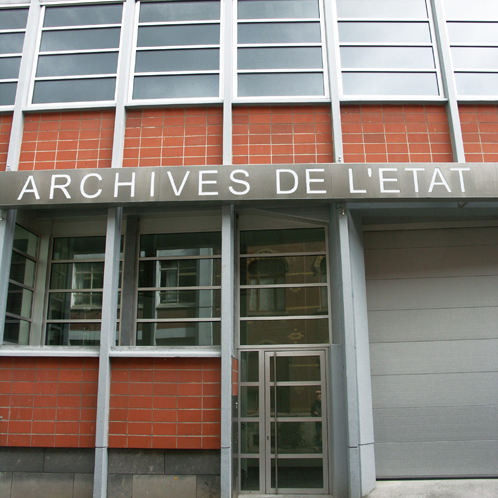 See all photos
COVID-19 - Update: All State Archives repositories closed until further notice as from 3. November 2020
As from Tuesday 3 November 2020, the State Archives shall again close all reading rooms and premises accessible to the public. The health crisis and the additional measures in the fight against COVID-19 force us once again to enter a period of minimal service. However, behind the screens we remain at your disposal and more than ever committed to making our archives accessible online for research.
The State Archives holds a real treasure of cartographic materials, but handing out original maps and plans in the reading rooms bears the risk of deteriorating the state of conservation of these documents. Indeed, repeated unrolling and rolling-up of these maps and plans that are sometimes of considerable size has taken its toll on the documents, which called for a large-scale digitization campaign. In recent years, some 60,000 maps and plans were digitised. This number increases steadily. Roughly 44,000 of these digital images have been processed and are now available for research.

&nbsp
Read more
In order to let the general public discover the rich archival heritage on the First World War, the State Archives launched a new dedicated website in August 2014: http://14-18-wallonie.arch.be. It is filled with a variety of interesting documents, including letters, posters, photographies, minutes, etc. The website is in French.

&nbsp
Read more
Head of Service: Bernard Desmaele.
Archivist: Romy Gouverneur.
Reception, Reading Room and Stacks Management: Pascal Hubaut, Vincent Minschaert.
Maintenance: Marleen De Block.