Contact:
Rue du Houblon, 26-28
1000 Brussels

How to get there
T : 02 274 15 00
F : /
agr_ar_2@arch.be
Opening hours:
Tuesday to Friday: 9 am to 4.30 pm.
Please make an appointment for your first visit to National Archives 2 - Joseph Cuvelier repository via agr_ar_2@arch.be.
July and August: open from Tuesday till Friday, from 9 am till 12 am and from 1 pm till 4.30 pm.
Closed on Mondays, Saturdays and Sundays, public holidays and inventorying days.

Click here for the complete list of closed days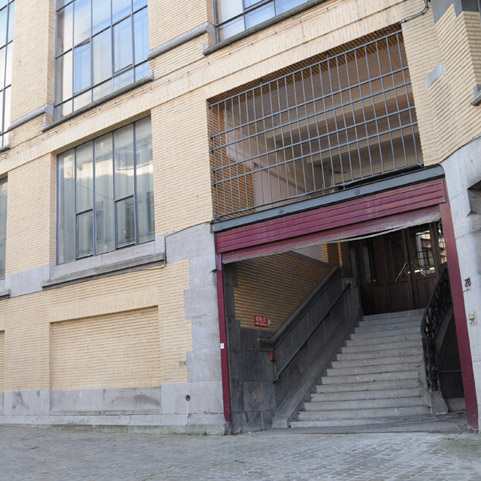 See all photos
COVID-19
Most health protection measures are lifted:
The reading room of the National Archives is accessible with or without booking. Bookings must be made exclusively using the online booking form.
The reading room of CegeSoma is acessible upon appointment only via this online form.
The reading rooms of all other State Archives repositories are only accessible upon appointment per e-mail, made at least 2 work days in advance and addressed to the repository in question. You can find the contact details of the State Archives repositories here.
Wearing a face mask is no longer mandatory on State Archives premises.
Stay informed via the Facebook page of the State Archives.
You do not know to which service your question should be addressed? Use our contact form.
The State Archives and the Royal Museum for Central Africa have published a source guide to the history of colonisation. This new publication identifies and locates all archives available in Belgium dating from the colonial period of the Democratic Republic of Congo, Rwanda and Burundi. The book in two volumes is also accessible online.

&nbsp
Read more
The State Archives holds a real treasure of cartographic materials, but handing out original maps and plans in the reading rooms bears the risk of deteriorating the state of conservation of these documents. Indeed, repeated unrolling and rolling-up of these maps and plans that are sometimes of considerable size has taken its toll on the documents, which called for a large-scale digitization campaign. In recent years, some 60,000 maps and plans were digitised. This number increases steadily. Roughly 44,000 of these digital images have been processed and are now available for research.

&nbsp
Read more
Head of Service: Joachim Derwael.
Archivists: Luis Angel Bernardo y Garcia, Caroline Six, Johannes Van de Walle, Marie Van Eeckenrode.
Heads of Research Projects: Chiara Candaele, Tommy Deganck, Delphine Lauwers, Bérengère Piret.
Reception, Reading Room and Stacks Management: Lynn Biscop, Laurent Ceressia, Sofiane El Ouahidi, Jean-François Meert, Marie-Louise Oomen.
Maintenance: Fatima Ait Laghchim, Fatima Chabira, Nadia Janah.