Contact:
Rue du Houblon, 26-28
1000 Brussels

How to get there
T : 02 274 15 00
F : /
agr_ar_2@arch.be
Opening hours:
Tuesday to Friday: 9 am to 4.30 pm.
Please make an appointment for your first visit to National Archives 2 - Joseph Cuvelier repository via agr_ar_2@arch.be.
July and August: open from Tuesday till Friday, from 9 am till 12 am and from 1 pm till 4.30 pm.
Closed on Mondays, Saturdays and Sundays, public holidays and inventorying days.

Click here for the complete list of closed days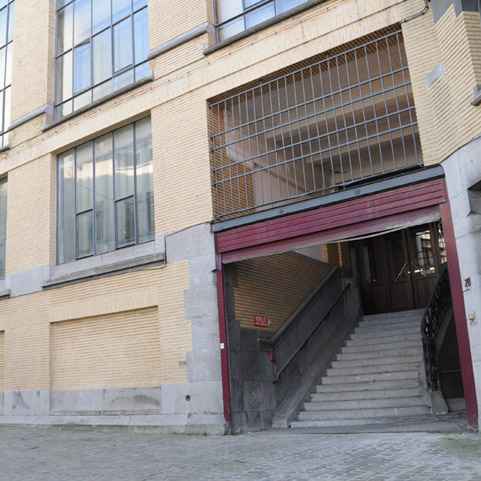 See all photos
The exit strategy of the State Archives
Under reserve of further guidelines by the National Security Council, the State Archives re-opens its reading rooms in two phases:
As from 26 May 2020, students and Ph.D. students whose academic activities require the use of archives are granted access to the reading rooms of the State Archives upon appointment and under the condition that they wear a face mask. Reservation of workspace in the reading room must be made by e-mail to the State Archives in question at least 2 workdays before the visit. You can find the contact details of our services on our website. Students must produce a valid student ID and Ph.D. students must show proof of their doctoral studies at a scientific research fund, a university or a scientific institution.
Provided that the public health situation in the country allows it, all reading rooms of the State Archives will re-open as from Tuesday 16 June 2020 for the general public.
The State Archives shall of course take all necessary precautions to ensure the security of both visitors and staff. The number of available workspaces in the reading rooms depends on the individual configuration of the premises and shall be limited accordingly.
In the meantime, we continue to provide minimum service to the maximum extent and to increase our online offer of archives and finding aids.
In order to somewhat alleviate the effects of the long closure of our reading rooms, all scheduled repository inventorying activities for 2020 are cancelled.
All public events, such as colloquia, group visits, receptions, book presentations, training, etc. organised by the State Archives until 15 June 2020 included are cancelled.
Transports and deliveries will progressively resume on Mondays, Tuesdays and Wednesdays, provided that security distances can be respected.
You can stay informed about further developments via this website and via Facebook.
The State Archives holds a real treasure of cartographic materials, but handing out original maps and plans in the reading rooms bears the risk of deteriorating the state of conservation of these documents. Indeed, repeated unrolling and rolling-up of these maps and plans that are sometimes of considerable size has taken its toll on the documents, which called for a large-scale digitization campaign. In recent years, some 60,000 maps and plans were digitised. This number increases steadily. Roughly 44,000 of these digital images have been processed and are now available for research.

&nbsp
Read more
Judicial records can be consulted under specific circumstances. As for the archives of the former military courts for the repression of collaboration, to consult some of these files for whatever reason, one has to send in advance a written and well-founded demand to the College of Prosecutors general. In case of a positive response, the files can be consulted in the reading room of the Archives générales du Royaume 2 – dépôt J. Cuvelier.

&nbsp
Read more
Head of Service: Joachim Derwael.
Archivists: Luis Angel Bernardo y Garcia, Caroline Six, Johannes Van de Walle, Marie Van Eeckenrode, Luc Vandeweyer.
Heads of Research Projects: Delphine Lauwers, Bérengère Piret.
Reception, Reading Room and Stacks Management: Laurent Ceressia, Sofiane El Ouahidi, Jean-François Meert, Marie-Louise Oomen.
Maintenance: Fatima Ait Laghchim, Fatima Chabira, Gabriela Gonzales.